Nothing Ear (2) gets a software update 1.0.1.88 with lots of improvements
The Nothing Ear (2) earbuds have received a new software update, version 1.0.1.88, that promises to bring several improvements to the user experience. This latest update is sure to please users, as it resolves some critical issues that were affecting the performance of these earbuds.
Nothing Ear (2) 1.0.188 Update New Improvements and Fixes
One of the significant fixes in this update is the resolution of sound distortion bugs that some users experienced when using the LHDC codec. This codec is known for its superior sound quality, but some users were having trouble enjoying their music due to glitches and hiccups. With this update, users can expect a much smoother and seamless listening experience.
Another significant improvement is the reduction in general sound latency, which will be especially useful for gamers and video watchers. The new update ensures that the sound will be in sync with the visuals on the screen, providing an immersive and enjoyable experience.
The optimized Adaptive ANC is another highlight of this update, as it enhances the already excellent noise-canceling capabilities of the Nothing Ear (2) earbuds. With this update, users can now easily adjust the noise cancellation levels for different sound environments, providing a perfect balance of immersive sound and awareness of their surroundings.
The accuracy of the connection status has also been improved, making it easier for users to know when they're connected to power. This may seem like a minor update, but it can make a big difference in day-to-day use, especially when you're in a hurry.
The call quality has also been optimized, meaning that users can enjoy clearer voice clarity when talking on the phone. The other party can hear you more clearly, making it easier for them to understand what you're saying. This improvement is a boon for those who use the Ear (2) earbuds for phone calls.
Lastly, the in-ear detection feature has been improved, making it easier for the earbuds to recognize when you're playing or pausing audio. This feature is handy and can make a big difference in the overall user experience, as it ensures that the earbuds work flawlessly.
How to update
Here's how to update your earbuds to the latest version 1.0.1.88:
Open the Nothing X app on your smartphone.
Navigate to the "Settings" menu within the app.
Select "Firmware update" from the list of options.
If an update is available, version 1.0.1.88 should be displayed and waiting for you to download.
Click on "Download and Install" to begin the update process.
Wait for the update to complete, which may take a few minutes, depending on your device and internet connection.
Once the update is finished, your earbuds will be restarted and ready to use with the latest improvements and fixes.
Noise Unveils Buds Verve: Affordable TWS Earbuds Priced Under Rs 1,200
Noise, the renowned Indian brand known for its affordable audio products, has once again captured the attention of consumers with its latest offering. Following the recent launch of the Buds VS103 Pro TWS, the company has now introduced the Buds Verve, a pair of truly wireless earbuds that come with an impressive array of features, all at an incredibly affordable price point.
The Noise Buds Verve boasts a sleek in-ear design with a stylish Chrome finish. The earbuds are equipped with 10mm drivers, which deliver a balanced and crisp audio output, ensuring an immersive listening experience. With Bluetooth version 5.3, the Buds Verve offers faster pairing and enhanced connectivity. The HyperSync technology incorporated into these earbuds enables quick pairing as soon as the case is opened. Speaking of the case, it is compact and oval-shaped, making it portable and convenient to carry around.
One of the standout features of the Noise Buds Verve is its quad-mic setup, which supports Environmental Noise Cancellation (ENC) technology. This advanced feature effectively cancels out background noise during calls, ensuring crystal-clear voice quality for both the user and the person on the other end of the call. The earbuds provide an impressive total playback time of up to 45 hours on a single charge, making them ideal for long listening sessions or extended travel.
The Buds Verve is powered by Noise's proprietary Instacharge technology, which delivers a remarkable listening time of approximately 150 minutes with just 10 minutes of charging. Additionally, the inclusion of a USB Type-C port for charging ensures quick and convenient recharging of the earbuds and the case.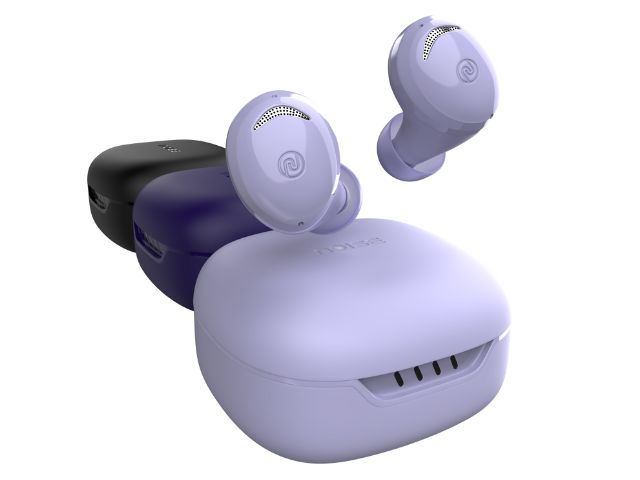 For an enhanced entertainment experience, the Noise Buds Verve supports a 40ms low latency mode, minimizing lag while watching content or playing games. This feature ensures that audio and video are perfectly synchronized, providing an immersive multimedia experience. Furthermore, the touch controls integrated into the earbuds allow users to effortlessly change songs, adjust volume levels, and more. With an IPX5 rating for water and sweat resistance, these earbuds are also suitable for active individuals who enjoy workouts or outdoor activities.
The Noise Buds Verve comes at an extremely attractive price point of just Rs 1,199, making them highly affordable for budget-conscious consumers. They will be available for purchase starting tomorrow from popular online platforms such as Flipkart and the official Noise website. To cater to individual preferences, the Buds Verve is offered in an array of eye-catching colors, including Black, White, Green, Blue, and Purple.
The Noise Buds Verve TWS earbuds combine style, functionality, and affordability into one impressive package. With its impressive audio quality, ENC technology, long battery life, and various other features, the Buds Verve is set to be a popular choice among consumers looking for a reliable and affordable audio companion.
Nothing Ear (2): The Future of Wireless Earbuds
Wireless earbuds are increasingly becoming popular with audiophiles and people looking to cut the cords. With the release of the Nothing Ear (2), the future of wireless earbuds has been revolutionized. The earbuds are ultra-light at just 4.5g, making them one of the lightest earbuds available in the market today. But don't let the size fool you; the earbuds pack a powerful punch with their 11.6mm custom driver, Hi-Res Audio certification, and powerful noise-cancellation features.
Nothing, the company behind the Ear (2), has gone above and beyond to deliver a unique listening experience that transports users to the recording studio. The dual-chamber design and 11.6mm dynamic driver ensure that every detail of the music is revealed, delivering authentic sound just as it was intended by the artist.
The Ear (2) is Hi-Res Audio certified, which means that it can play back up to 1 Mbps and frequencies up to 24bit/192 kHz. This ensures that sound details are protected, and the LHDC 5.0 codec allows for high-resolution streaming over Bluetooth without any quality damage. The powerful 11.6mm driver brings effortless, powerful bass and richer high notes, which coupled with an all-new dual-chamber design, provides brighter and clearer audio.
The Ear (2) has a Personal Sound Profile feature that adjusts the equalizer in real-time so that the content is optimized just for the listener. The Clear Voice Technology has also been made smarter to provide clearer calls. The earbuds also have dual connection capabilities, which allow users to stay connected to multiple devices simultaneously.
The Ear (2) has been designed to let users create their hearing ID with the Personalized Sound Test available in the Nothing X app, which analyzes the listener's sensitivity to different frequencies and adapts in real-time to the listener and the content being played.
The Ear (2) has a noise-cancellation feature that can cancel noise up to 40dB. The Adaptive Mode detects distractions in the listener's environment before they do and provides noise cancellation tailored to the exact shape of the listener's ears. The earbuds also have Transparency Mode, which allows ambient sound to pass through the earbuds so that users can be aware of their surroundings.
The Ear (2) charging case is even more durable and has an IP55 rating for extra peace of mind. The earbuds have a battery capacity of 33mAh, which provides up to 36 hours of music playback with the case and 6.3 hours with buds only. The earbuds can be charged wirelessly with Qi certified up to 2.5W or via USB Type-C. The fast charging feature provides 8 hours of music playback in just 10 minutes.
In conclusion, the Nothing Ear (2) is a game-changer in the wireless earbuds industry, providing an unmatched listening experience with its innovative features. The earbuds are designed to provide truly authentic sound, and the Personal Sound Profile feature ensures that the sound is tailored to the listener's hearing profile. With an ultra-lightweight design and a charging case that provides up to 36 hours of music playback, the Ear (2) is the perfect earbuds for audiophiles and music lovers who are looking for high-quality and authentic sound.
Nothing Ear (2) Features:
Ultra light at just 4.5 g
Powerful 11.6 mm custom driver
24bit Hi-Res Audio Certified
Next-level Active Noise Cancellation
Personal Sound Profile
Up to 36 hrs of listening time
Truly authentic sound
Dual Connection
Personalised Active Noise Cancellation
Iconic design
Enhanced performance
Water resistance
Wireless Charging
Press control
Power in minutes
Nothing X app
Nothing Ear (2) Price
The Nothing Ear (2) is priced at Rs 9,999, making it a competitive option in the wireless earbuds market. Despite its relatively affordable price tag, it boasts impressive features such as active noise cancellation, transparency mode, and touch controls, making it a great value for money. Its launch on March 22, 2023, on the official Nothing YouTube channel has generated a lot of excitement among tech enthusiasts and audiophiles alike. If you're looking for high-quality wireless earbuds without breaking the bank, the Nothing Ear (2) is definitely worth considering.
In terms of availability, the Nothing Ear (2) can be purchased globally through the official Nothing.tech website. For those in India, the earbuds are exclusively available on Flipkart.com. Additionally, those who are part of the Nothing community and hold a Black Dot or Red Dot membership on the official Discord server can avail of a discount of Rs 1000 on their purchase. With such convenient availability and discounts for community members, the Nothing Ear (2) is a great option for anyone looking for high-quality wireless earbuds at an affordable price point.
Everything You Need to Know About the Nothing Ear (2)
Nothing, a London-based technology company founded by Carl Pei, former co-founder of OnePlus, is all set to launch its much-anticipated true wireless earbuds, the Nothing Ear (2). While we know what they look like, thanks to leaked press renders and studio photos, there's a lot more to learn about these earbuds.
Design and Build Quality
The Ear (2) looks almost identical to its predecessor, Ear (1), in terms of design. It features the signature transparent case and buds that are reminiscent of the original AirPods. However, there are some notable changes in terms of build quality. The Ear (2)'s case appears to be boxier and has a silicon pad on the bottom side of the case, which should help with durability and prevent scratches.
Specs and Features
The Ear (2) boasts some impressive specs and features. It has an IP54 water resistance rating, making it suitable for use during light rain or sweaty workouts. The Ear (2) also supports LHDC 5.0, which allows for hi-res audio to be played to its full potential.
The Ear (2) has two new toggles for active noise cancellation (ANC). In addition to the standard Noise Cancellation, Transparency, and Off modes that were present in the Ear (1), the Ear (2) features two additional modes: Hybrid ANC and Personalized ANC. It's rumored that the Ear (2) will have ANC of up to 40dB.
The Ear (2) has 11.6mm dynamic drivers, which are slightly bigger than both the OnePlus Buds Pro and Buds Pro 2. It also has Personalized Sound, which allows users to customize their listening experience based on their preferences. The Ear (2) also supports multipoint connectivity, allowing users to connect to two devices at once.
Battery life on the Ear (2) is impressive, with up to 36 hours of usage with the case. The Ear (2) can be charged via USB-C or Qi wireless charging. The Nothing X app is also expected to be updated to allow for advanced EQ, which will allow users to further customize their sound preferences.
Price and Availability
The Ear (2) is set to be priced between ₹9499-11999 in India and roughly 159€ in Europe. This puts it in a competitive price bracket, especially when compared to other recently launched earbuds such as the OnePlus Buds Pro 2 and 2R. The Ear (2) will go on sale on March 28th, but unfortunately, it will only be available through Flipkart in India.
Overall, the Nothing Ear (2) appears to be an impressive set of earbuds, with a solid feature set and competitive pricing. While we'll have to wait until they're available for purchase to know for sure, it's safe to say that they're definitely worth keeping an eye on if you're in the market for a new pair of true wireless earbuds.
How to watch Nothing Ear (2) Launch Event?
For those interested in watching the Ear (2) launch, the live stream will begin at 8:30 PM IST / 3 PM GMT. To tune in, simply visit the Nothing website or their social media platforms, where the stream will be available to view.
Fans of MKBHD can also keep an eye out for his involvement in the launch, as Nothing is known for taking unconventional approaches to their events. With the Ear (2) launch being highly anticipated, many are looking forward to seeing what Nothing has in store for their audience.
Also read: New HD Wallpapers for Nothing Phone (1) – Dec to Feb 2023